Politics of Israel Current Affairs, GK & News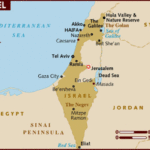 The Prime Minister of Israel, Benjamin Netanyahu was recently seen in news as he claimed victory in the general elections held in the country. This edition of the election is the country's third election in less than a year. The main exit polls indicated that Mr Netanyahu is in a strong position to form the ..
Topics: In Israel • israel • Politics of Israel
Benjamin Netanyahu appeared to head a historic 5th term as Israel's prime minister with close-to-complete unofficial election results giving his right-wing Likud and other nationalist and religious parties a solid majority in parliament. The results have dimmed hopes of a negotiated solution to the Israeli-Palestinian conflict. With 97.4% of the vote counted, Likud and its ..
Topics: Benjamin Netanyahu • Betar • Israeli Jews • Israeli legislative election • Likud • Likud Yisrael Beiteinu • Political ideologies • Political parties • Politics of Israel • Revisionist Zionism
Officials of Israel poll have cancelled the claim by hackers that they had broken into the database of Israeli voters just before the Parliamentary elections tomorrow. Israel will go to the polls on 10th April to elect the "Knesset", or "Parliament". Hackers have claimed they had stolen information on millions of Israelis after breaking into ..
Topics: Government of Israel • israel • Knesset • Politics of Israel