Plasmodium Current Affairs, GK & News
Plasmodium Current Affairs, GK & News
The State of Odisha which had a distinction of accounting about 40 per cent of malaria cases in the country is now working to eliminate the mosquito-borne disease altogether over the next five years. Malaria Malaria is a contagious disease caused by plasmodium parasites. The disease is transmitted to humans through the bites of infected ..
Topics: Aedes aegypti • Airport malaria • Epidemiology • Infectious diseases • Malaria • Medical specialties • Mosquito • Mosquito net • Mosquito-borne disease • Plasmodium • RTT • Vector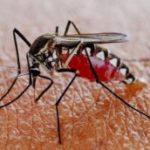 The World Health Organization (WHO) has declared Algeria and Argentina as 'Malaria-Free' countries after no cases of indigenous transmission of disease were recorded. Key Highlights Background: The Malaria parasite was first discovered in humans in Algeria by a French physician named Charles Louis Alphonse Laveran in 1880. By 1960s, Malaria became Nigeria's primary health challenge, ..
Month: Current Affairs - May, 2019
Topics: 72nd session of the World Health Assembly (WHA) • Algeria • Argentina • female Anopheles • Geneva • Malaria • Malaria Free Countries • Mosquirix • Plasmodium • RTS S • Switzerland • WHO Malaria-Free Certification • World Health Organization (WHO) • World malaria report 2018
The World Health Organization (WHO) has officially recognized Algeria and Argentina as malaria-free countries, after no new cases of the deadly disease have been reported for at least 3 consecutive years. As per WHO, there were now 38 countries and territories that have been declared free of the disease. Algeria, where the malaria parasite was ..
Topics: Anopheles • Charles Louis Alphonse Laveran • Infectious diseases • Malaria • Medical specialties • Mosquito • Mosquito-malaria theory • Plasmodium • Plasmodium falciparum