Plasmodium falciparum Current Affairs, GK & News
Plasmodium falciparum Current Affairs, GK & News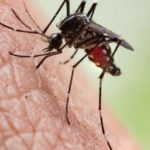 Kenya has started administering doses of the worlds only licensed malaria vaccine to young children in rural areas facing high transmission rates. Kenya is the third African country after Ghana and Malawai to introduce the vaccine. The aim of the vaccination drive is to reach about 360,000 children per year across the three countries and about 120,000 ..
Topics: Anopheles • Infectious diseases • Malaria • Medical specialties • Medicine • Mosquito-borne disease • PfSPZ Vaccine • Plasmodium falciparum • RTS,S • Vaccine
The World Health Organization (WHO) has officially recognized Algeria and Argentina as malaria-free countries, after no new cases of the deadly disease have been reported for at least 3 consecutive years. As per WHO, there were now 38 countries and territories that have been declared free of the disease. Algeria, where the malaria parasite was ..
Topics: Anopheles • Charles Louis Alphonse Laveran • Infectious diseases • Malaria • Medical specialties • Mosquito • Mosquito-malaria theory • Plasmodium • Plasmodium falciparum