Page-7 of
Physics Current Affairs, GK & News
Telcos say that they are not allowed to expand tower network due to emission issues. Emissions from mobile towers are considered safe as it is non-ionising or "low energy" radiation, which cannot alter the human DNA. At most, it can only induce thermal effects by way of mild arming of the body. Only ionising or ..
Topics: International Commission on Non-Ionizing Radiation Protection • Ionizing radiation • Medical physics • Mobile Communication • Nature • Physics • Radiation • Radioactivity • Radiobiology • Science & Technology Developments • Telecom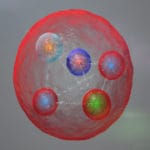 Scientists at CERN's Large Hadron Collider (LHC) have discovered a new class of exotic subatomic particles called the Pentaquarks. The discovery was made by the scientist's after watching the decaying of a subatomic type particle known as the Lambda B baryon. Facts about Pentaquark Pentaquark was first predicted to exist in the 1960s and its ..
Month: Current Affairs - July, 2015
Topics: Current Affairs 2016 • Pentaquarks • Physics • Science and Technology
Serge Haroche of France and David Wineland of America together won the 2012 Nobel Prize in Physics for inventing methods to observe the bizarre properties of the quantum particles without disturbing them. This thing was previously thought unattainable. What is their invention? Their inventions are the methods by which quantum particles like atom, electron or ..
Topics: Cavity quantum electrodynamics • Electron • Elementary particles • Optics • Particle • Photon • Physical sciences • Physics • Quantum electrodynamics • Quantum mechanics • Serge Haroche
Specific absorption rate is the measure of the rate at which energy is absorbed by the body when exposed to a radio frequency (RF) in electromagnetic field. The term is not restricted to the absorption of Electromagnetic Feild (EMF) and can be used in terms of absorption of other forms of energy by tissue, including ultrasound. In short SAR is the power absorbed ..
Month: Current Affairs - September, 2012
Topics: Base station • Bioelectromagnetics • Branches of biology • Electromagnetic radiation • Ionizing radiation • Physical sciences • Physics • Radiation • Radiation therapy • Radiobiology • Specific absorption rate • Wireless
Fundamental Physics Prize has been given to Nine Physicist from across the globe. The prizes were given to the physicists for their outstanding contribution to the field of fundamental physics. Winners: · Prof. Ashoke Sen · N J Nima · Arkani-Hamed · Juan Maldacena · Nathan Seiberg · Edward Witten · Andrei Linde · Alexei ..
Month: Current Affairs - August, 2012
Topics: Alexei Kitaev • Breakthrough Prize in Fundamental Physics • Edward Witten • Fields Medalists • MacArthur Fellows • Maxim Kontsevich • Nathan Seiberg • Nima Arkani-Hamed • Particle physicists • Physical sciences • Physicists • Physics