Park Geun-hye Current Affairs, GK & News
Kim Jong-pil (92), the founder of South Korea's spy agency, has passed away in Seoul, South Korea on June 23, 2018. The spy agency is widely-known as the "perennial No. 2 man" in modern Korean politics. He also served as prime minister twice from 1971–1975 and from 1998–2000. A retired lieutenant colonel, Kim was a ..
Topics: 5th Republic • Fourth Republic of South Korea • Gim clan of Gimhae • Kim Jong-pil • Korea • Leaders • National Intelligence Service • Park Chung-hee • Park Geun-hye • Presidents of South Korea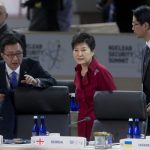 South Korean opposition which controls much of the Parliament has introduced an impeachment motion against President Park Geun-hye over her involvement in a corruption scandal. The voting in the respect will be held on Friday. Impeachment vote must be held between 24 and 72 hours of the passing of the motion. As per the Parliament, ..
Topics: Accountability • Heads of state • Impeachment • Impeachment of Park Geun-hye • In politics • Park Geun-hye • Political scandals in South Korea • Politicians • Politics • South Korean political scandal