Nuclear submarine Current Affairs, GK & News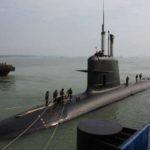 On December 29, 2019, the parliamentary panel announced that Indian Navy has planned to build 24 submarines, out of which six will be nuclear powered. This is being done in order to strengthen the underwater fleet of Indian navy. Submarines in the Navy According to the data from Indian Navy, currently there are 2 nuclear ..
Topics: CAATSA • India-Russia • Indian Navy • INS Arihant • INS Chakra • Nuclear submarine • Submarines • US sanctions
The Ministry of Defence has been on the news for its failure to dispose 20 nuclear submarines. The National Audit Office report says that 9 of the 20 vessels still have nuclear fuel in it. It also added in its report that the Ministry of Defence has not taken any measures to dismantle the submarines ..
Topics: Ballistic missile submarines • Nuclear power in Scotland • Nuclear submarine • Nuclear-powered submarines • Royal Navy Submarine Service • Ships • Submarine • Trident
Air Independent Propulsion (AIP) is a technology that allows Diesel Submarines to operate without having to surface or use a snorkel to access atmospheric oxygen .Navies who wish to operate non-nuclear subs with long-range and large weapons payload are now option for large diesel submarines equipped with AIP, which provide the closest alternative to nuclear ..
Topics: Air-independent propulsion • Attack-class submarine • Marine propulsion • Nuclear submarine • Ships • Submarine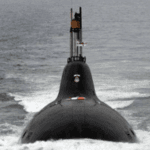 India's first indigenously built nuclear armed submarine INS Arihant has successfully passed several deep sea diving drills as well as weapons launch tests. These successful tests undertaken off Vishakhapatnam coast where the submarine was build. These tests makes it ready for formal induction into the Naval Fleet About INS Arihant INS Arihant's design is based ..
Month: Current Affairs - February, 2016
Topics: Defence • India-Russia • INS Arihant • Nuclear submarine