New Year Current Affairs, GK & News
The President and the Vice President greeted the nation on occasion of the Chaitra Sukladi or the Ugadi festival. About the Festival Ugadi is the New Year's Day celebration for the Kannada and the Telugu people in South India. It is celebrated on the first day of the Hindu calendar month of Chaitra. The festival ..
March 20th 2020 marked the worldwide celebration of the Persian New Year by various Zoroastrian, Muslim and Bahais communities. About the Festival Navroz or Nowruz is the Iranian New Year/ the Persian New Year. It is celebrated on the Spring Equinox Day (either on March 20th or 21st) across the world by various ethno-linguistic groups. ..
Topics: Festivals • International Nowruz Day • Iran • Iranian Calendar • New Year • Spring Equinox • Zoroastrianism
Rongali or Bohag Bihu is the Assamese new year and spring festival, which is celebrated from April 15 to April 21. The Rongali Bihu coincides with Punjabi New Year Baisakhi. The 7-day festival is celebrated in seven phases – Chot, Kutum, Mela, Raati, Goru, Manuh and Chera. It begins with goru bihu or cow bihu ..
Topics: Assam • Bihu • Culture of Assam • Indian culture • New Year • Northeast India • Tourism in North East India • Vaisakhi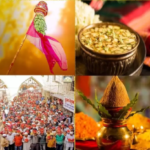 Various Parts of India welcomed the New Year on 6th April. Ugadi, Gudi Padava etc were observed in different parts of the Country. New Year in different Parts of the Country Ugadi/Yugadi Ugadi in Karnataka, Telangana and Andhra Pradesh falls in the Chaitra month and is celebrated by distributing jaggery and neem flowers which is symbolic to sharing ..
Category: Art & Culture Current Affairs
Topics: Andhra Pradesh • Assam • Baisakhi • Bengali • Bestu Varas • Bohag Bihu • Cheti Chand • Gudi Padwa • Gujarat • Jhulelal • Karnataka • Kashmiri • Kerala • Losoong • Maharashtra • Marwaris • Navreh • New Year • Pohela Boishakh • Punjab • Puthandu • Rajasthan • Sikkim • Sindhi • Tamil Nadu • Telangana • Ugadi • Vishu • Yugadi
Kutchi community celebrates its New Year on Aashadhi Beej, which falls in month of Ashada (July / August).
Topics: Calendars • Dwitiya • Hindu calendar • New Year