Neutron stars Current Affairs, GK & News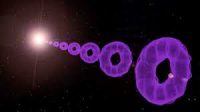 The Hum of the Universe was recently detected by the North American Nanohertz Observatory for Gravitational Waves (NANOGrav). According to the researchers, the hum was produced by gravitational waves. About the Hum of the Universe The Hum of the Universe comes from a type of dead star called a "Pulsar". These stars are basically neutron ..
Month: Current Affairs - January, 2021
Category: Science & Technology Current Affairs
Topics: Black holes • Gravitational Waves • hum of universe • LIGO • NANOGrav • Neutron stars • Pulsars
NASA has invented a new type of autonomous space navigation that could see human-made spacecraft heading into the far reaches of the Solar System, and even farther – by using pulsars as guide stars. It's called Station Explorer for X-ray Timing and Navigation Technology, or SEXTANT (named after an 18th century nautical navigation instrument), and it ..
Topics: Astronomy • Millisecond pulsar • Neutron stars • PSR B1937+21 • Pulsars • Radio astronomy • Star types • Stars • Stellar astronomy • X-ray pulsar