Neonatology Current Affairs, GK & News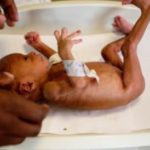 A new research paper developed by experts from the World Health Organization, UNICEF and the London School of Hygiene & Tropical Medicine, published in The Lancet Global Health makes the following observations: More than 20 million babies were born with low birth weight (less than 2500g; 5.5 pounds) in 2015. This was around one in seven ..
Topics: Birth weight • Health • Human reproduction • Human weight • Low birth weight • Neonatology • Obstetrics • Pregnancy • Preterm birth • RTT • Women's health
The Bangalore-based electronics engineer, Nitesh Kumar Jangir has won the 2019 Commonwealth Secretary-General's Innovation for Sustainable Development Award in London, United Kingdom (UK). He received his award in the 'People' category alongside 14 other innovators from across the 53 member-countries of the Commonwealth. Jangir created Saans as a breathing support device to tackle avoidable deaths ..
Topics: Childhood • Human development • Infancy • Infant • Infant respiratory distress syndrome • Medical specialties • Neonatology • Preterm birth • Respiratory distress syndrome
Recently, World Health Organization, Save the Children and the London School of Hygiene and Tropical Medicine has released the most comprehensive newborn death estimates so far — covering all 193 countries and spanning 20 years. Here is some finding relevant to India: India has recorded a 33% drop in newborn deaths between 1990 and 2009. ..
Month: Current Affairs - November, 2011
Topics: Childbirth • Childhood • Health • Infancy • Infant • Medical specialties • Midwifery • Neonatology • Perinatal asphyxia • Perinatal mortality • Preterm birth • RTT