Page-3 of
Naxalite Current Affairs, GK & News
MK Damodaran (77), the veteran lawyer and former Advocate General of Kerala, has passed away in Kochi, Kerala. He was one of the most popular figures at the Kerala High Court and was well known for defending the Naxalites during the late '60s and early '70s. He was expert in both criminal and civil cases ..
Topics: Kerala • Kochi • Naxalite • Paramilitary organizations • States and union territories of India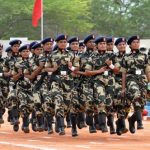 In a first, Central Reserve Police Force (CRPF) has deployed women commandos for undertaking anti-Naxal operations in Maoist-infested state of Jharkhand. A team of women commandos belonging to the 232 battalion's Delta Company are currently undertaking operations to counter Naxal insurgency in Jharkhand. The women commandos have been provided extensive training in CRPF academies for ..
Topics: April 2010 Maoist attack in Dantewada • Central Armed Police Forces • Central Reserve Police Force • Communism • Communist Party of India • Communist terrorism • Decades • Maoism • Naxalite • Operation Green Hunt • Warfare
The guidelines provided for Integrated Watershed Management Programme to be revised as State Governments found the current guidelines rigid and inflexible to their requirement. The States have demanded that the cost of Rs 15,000 per hectare allocated for Naxal affected areas to implement watershed management programme should also be extended to areas with special problems. ..
Month: Current Affairs - June, 2012
Topics: Economy of India • Human activities • Indian labour law • National Rural Employment Guarantee Act • Naxalite • Right to work • Water • Watershed management
Under the Centre's Integrated Action Plan (IAP), the Union Rural Development Ministry has deputed a team of fresh IIM and IIT graduates in Jharkhand to support the senior Bureaucrats in implementation of development plans across 11 naxal-hit districts. The IAP operates in 17 districts of Jharkhand. As per the fellowship programme worked out by PM ..
Month: Current Affairs - May, 2012
Topics: Government of India • India • Jairam Ramesh • Jharkhand • Lok Sabha • Naxalite
The then District Collector of Sukma District (Chhattisgarh) who was abducted by the Moists. The 32 year old 2006-batch IAS Officer was abducted by Naxalites on April 21, 2012 from Manjipara village where he was attending a government programme. He was released by the Moists after a 13-days after reaching an agreement with the government ..
Month: Current Affairs - May, 2012
Topics: India • Indian Administrative Service • Maoism in India • Naxalite • States and union territories of India • Subdivisions of India • Sukma • Sukma district