Navdeep Singh Suri Current Affairs, GK & News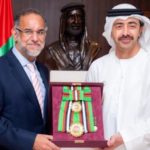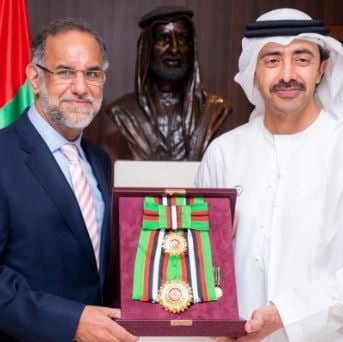 The outgoing Indian Ambassador to the United Arab Emirates (UAE), Navdeep Singh Suri was conferred with the First Class Order of Zayed II Honour in recognition of his efforts and contribution to the development and strengthening of bilateral ties between India and UAE. It is a rare honour given to any diplomat. Mr Navdeep Singh ..
Topics: Countries • Foreign relations of India • Government of India • Middle Eastern foreign policy of the Narendra Modi government • Narendra Modi • Navdeep Singh • Navdeep Singh Suri • United Arab Emirates • Zayed bin Sultan Al Nahyan
A book containing English translation of the 100-year-old classic Punjabi poem about Jallianwala Bagh massacre, 'Khooni Vaisakhi' has been released in Abu Dhabi. India's Ambassador to the UAE Navdeep Singh Suri commended the launch of the book. The poem was translated by Mr. Suri and novelist Nanak Singh, a Jallianwala Bagh survivor, wrote it after ..
Topics: Jallianwala Bagh • Language • Nanak Singh • Navdeep Singh Suri • Punjab • Vaisakhi
The poem 'Khooni Vaisakhi' was written by acclaimed Punjabi writer Nanak Singh on the Jallianwala Bagh massacre, which was banned by the British after its publication in 1920. The poem was a scathing critique of the British Raj. Singh was present at Jallianwala Bagh on April 13, 1919. He was 22 years old at the ..
Topics: Festivals • Foreign relations of India • In India • Jallianwala Bagh • Nanak Singh • Navdeep Singh Suri • Punjab • Rowlatt Act • South Asia • Vaisakhi