National liberation movements: Current Affairs, GK & News - 2020-2021
The armies of India and Myanmar carrys out a 3-week-long coordinated operation
Published: June 18, 2019
The armies of India and Myanmar carried out a 3-week-long coordinated operation, named 'Operation Sunrise 2', from May 16 in their respective border areas & targeted several militant groups operating in Manipur, Nagaland and Assam. As part of the operation, the armies coordinated with each other to bust camps of militant outfits, including the Kamtapur ..
Topics: Assam • Kaladan Multi-Modal Transit Transport Project • Kaladan River • National Democratic Front of Boroland • National liberation movements • National Socialist Council of Nagaland • Politics of Assam • Sittwe • States and union territories of India • Terrorism in Assam • Terrorism in India • United Liberation Front of Assam
Gaza: Rights Groups Condemn Hamas crackdown on Protests
Published: March 19, 2019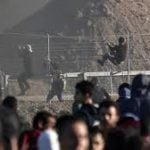 Many human rights organisations and groups have strongly condemned the attacks on protestors by the security forces of Hamas group in the Gaza Strip. People have been protesting against the growing costs of living and taxes for many days under the aegis of a new movement called "We want to live", which was formed a ..
Topics: Gaza Strip • Governance of the Gaza Strip • Hamas • National liberation movements • Palestinian National Authority • Palestinian nationalism • Palestinian terrorism • State of Palestine
Tripartite Agreement signed between Government and ULFA to suspend operation in Assam
Published: November 5, 2011
With an objective to bring peace in the north-eastern state of Assam, a tripartite agreement for Suspension of Operations against United Liberation Front of Assam(ULFA), was signed in New Delhi. The agreement was signed among the representatives of Central and Assam Governments and ULFA leaders. It agreed that the outfit will not carry out any ..
Month: Current Affairs - November, 2011
Topics: Assam • Assamese nationalism • Insurgency in Northeast India • National liberation movements • Northeast India • Paresh Baruah • Politics of Assam • Sivasagar • States and union territories of India • Terrorism in Assam • ULFA • United Liberation Front of Assam
Advertisement