Mountaineering in India Current Affairs, GK & News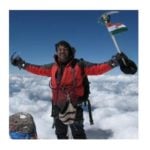 Bengaluru-based mountaineer Satyarup Siddhanta has been nominated for the Limca Book of World Records for becoming the first Indian to climb the highest volcanoes of all 7 continents. He had also been named in the Guinness Book of World Records. He achieved the feat in 2019 and the acknowledgement came recently. He scaled the highest ..
Topics: Limca Book of Records • Mountaineering • Mountaineering in India
To boost tourism and give and an all new experience to visitors, India's first-ever sky cycling park will soon open at Gulaba area near Manali in Himachal Pradesh. It is 350m long & is located at a height of 9000 Feet above sea level. Forest Department and Atal Bihari Vajpayee Institute of Mountaineering and Allied ..
Topics: Atal • Atal Bihari Vajpayee • Atal Bihari Vajpayee Institute of Mountaineering and Allied Sports • Education in Himachal Pradesh • Gulaba • Himachal Pradesh • Lok Sabha • Manali • Mountaineering in India
Kalpana Dash (50), the first woman mountaineer of Odisha, has passed away near Balcony area of world's highest peak Mount Everest on May 23, 2019.She had first scaled Mt Everest in 2008. During her decade and half-old career, she had trekked many mountains conquering peaks in Europe, America and Australia, besides India.
Topics: Ganesh Jena • Kalpana Dash • Landforms • Mount Everest • Mountaineering in India • Mountains • Sangeeta Sindhi Bahl
Veteran journalist Manik Banerjee, who is also an acclaimed mountaineer, has been conferred with the 2017 Nain Singh-Kishen Singh Life Time Achievement (LTA) award by the Indian Mountaineering Foundation (IMF) on November 19 for his achievements in mountaineering over a period of four decades and invaluable contribution in promotion of mountaineering. Beside him, Lt col ..
Topics: Highest points • Indian Mountaineering Foundation • Landforms • Mount Everest • Mountaineering in India • Mountains • Ranveer Jamwal