Military of the United States Current Affairs, GK & News

During the Indian visit of the US President Donald Trump, India and the US signed a $3 billion military helicopter deal. It includes the deal for 24 MH-60 Sikorsky Romeo multi-role helicopters and 6 Apache attack choppers. The Romeo Seahawk helicopters, which are to be deployed in Indian Navy, have state-of-the-art combat systems. The Apache ..
Topics: India-US • Indian Air Force • Indian Navy • Military of the United States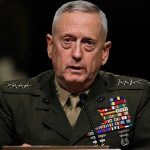 President elect Trump has picked up retired Marine General James Mattis for the coveted post of Secretary of Defence. Mattis had retired as Chief of US Central Command in 2013 has often quoted that US lacks an overall and effective strategy in middle-east. Mattis has often stood against the relevance of "political Islam" and has ..
Topics: Awards • Current Affairs – April, 2014 • Hoover Institution • Jim Mattis • Mattis • Military of the United States • Politics by country