Mateh Binyamin Regional Council Current Affairs, GK & News
Israel has recently set October deadline to evacuate Khan al-Ahmar, a Bedouin village in West Bank. Regarding to this issue, the Israeli military has informed residents of West Bank hamlet that they have until October 1 to leave before their homes face demolition. The Khan al-Ahmar is located between the Israeli settlements of Ma'ale Adumim ..
Topics: Abu Dis • Ahmar • Geography of the State of Palestine • Geography of the West Bank • Israeli settlement • Jerusalem Governorate • Kfar Adumim • Khan al-Ahmar • Ma'ale • Ma'ale Adumim • Mateh Binyamin Regional Council • West Bank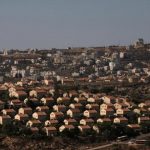 In a controversial move, Israel has approved the Draft Bill which authorises the Jewish settlements built on private Palestinian land in the occupied parts of West Bank without the permission of Israeli government. The Bill has to pass through three parliamentary readings and be ratified by the Supreme Court before it can become law. The ..
Topics: Amona, Mateh Binyamin • Geography of the West Bank • Israeli settlements • Israeli-occupied territories • Mateh Binyamin Regional Council • Ofra • State of Palestine • West Bank • West Bank Areas in the Oslo II Accord