Page-9 of
Mars Current Affairs, GK & News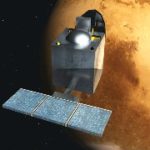 India's globally acclaimed Mars Orbiter Mission (MOM) spacecraft also known as Mangalyaan has completed one year of the mission life around Mars on 24 September 2015. During the entire one year, the spacecraft had acquired a large set of data of the red planet using all five payloads mounted on it by completing more than ..
Month: Current Affairs - September, 2015
Topics: Current Affairs 2016 • ISRO • Mangalyaan • Mars • Mars Orbiter Mission • Science and Technology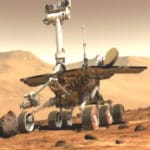 NASA's Curiosity rover for first time has found evidence of nitrogen in the form of nitrate in aeolian deposits and in two mudstone deposits on Mars. It was detected by using the Sample Analysis at Mars (SAM) instrument suite mounted on Curiosity rover by the team of Scientists. Scientists believe that the detected nitrogen in ..
Month: Current Affairs - March, 2015
Topics: Mars • NASA • Science & Technology
A robot rover "Curiosity" launched by US space agency NASA successfully landed on Mars. The rover landed on Aeolis Palus in Gale Crater on August 6, 2012. What is Curiosity? · It is a robot rover which is currently exploring Mars. · Currently exploring Gale Crater, near the equator of Mars. · It will examine ..
Month: Current Affairs - August, 2012
Topics: Aeolis Palus • Aeolis quadrangle • Curiosity • Gale • Mars • Mars landing • Mars rovers • Mars Science Laboratory • Planets • Rover • Water on Mars
The ISRO has proposed to undertake a Mars Orbiter Mission in October-November, 2013. It will be India's first step towards exploring the planet Mars. The proposal is currently under examination for government approval. The Mars spacecraft will be placed in an elliptical orbit around the red planet after a voyage of almost 300 days. During ..
Month: Current Affairs - April, 2012
Topics: Exploration of Mars • Geography of Mars • Human mission to Mars • Indian Space Research Organisation • Mars • Mars Orbiter Mission • Mars program • Outer space • Spacecraft • Spaceflight
An isolation experiment in Russia simulated a 520-day human mission to Mars. Six volunteers were locked away in windowless cells in June 2010. The $15-million Mars500 experiment, which ended on Nov. 4, was the first full-duration simulation of a human expedition to Mars. During the mission, the crew was hermetically isolated. After 250 days the ..
Month: Current Affairs - January, 2012
Topics: Colonization of Mars • Exploration of Mars • Human mission to Mars • Human missions to Mars • International Space Station • Mars • Mars analog habitat • Mars Society • MARS-500 • Outer space • Space medicine • Spaceflight