Page-2 of
Maoism Current Affairs, GK & News
The term Urban Naxals is not clearly defined. The origin of the word can be traced to the book and a few essays by film-maker and social media opinion-maker Vivek Agnihotri's book, Urban Naxals: The Making of Buddha in a Traffic Jam. The phrase of Urban Naxals is loosely attributed to the people with naxalite ..
Topics: Kanu Sanyal • Left-wing politics • Maoism • Naxalite • Political spectrum • Sindhooram • Vivek Agnihotri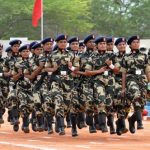 In a first, Central Reserve Police Force (CRPF) has deployed women commandos for undertaking anti-Naxal operations in Maoist-infested state of Jharkhand. A team of women commandos belonging to the 232 battalion's Delta Company are currently undertaking operations to counter Naxal insurgency in Jharkhand. The women commandos have been provided extensive training in CRPF academies for ..
Topics: April 2010 Maoist attack in Dantewada • Central Armed Police Forces • Central Reserve Police Force • Communism • Communist Party of India • Communist terrorism • Decades • Maoism • Naxalite • Operation Green Hunt • Warfare