manufacturing in India Current Affairs, GK & News
manufacturing in India Current Affairs, GK & News
The Union Cabinet recently approved 3 scheme to boost the domestic manufacturing of electronics and also to attract investments in the sector. Production-linked Incentive Manufacturing Scheme The Cabinet approved the production linked incentive manufacturing scheme for the electronics sector and it is worth 40,995 crore INR. It will give an incentive of 4 to 6% ..
Topics: Electronics • EMC 2.0 • manufacturing in India • SPECS
Kalyani Rafael Advanced Systems (KRAS) is India's first private sector missile sub-systems manufacturing facility. It was inaugurated near Hyderabad, capital of Telangana.  It is 51:49 joint ventures between India's Kalyani Group and Israel's Rafael Advanced Defence Systems. KRAS aims to be a one-stop solution provider to locally re-design, develop, re-engineer and manufacture various land and ..
Topics: Business • Economy of India • India • Indian Armed Forces • Kalyani Group • Make in India • manufacturing in India • Ministry of Defence • Slogans
The National Manufacturing Policy had proposed establishment of a Technology Acquisition and Development Fund (TADF) for acquisition of clean, green and energy efficient technologies. Establishment of this fund was so far in limbo. The NDA Government has recently approved setting up of TADF and the Green Manufacturing Scheme. Some Important Facts: The fund will work ..
Topics: manufacturing in India • National Manufacturing Policy • NIMZ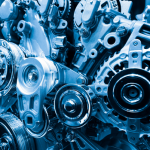 India's growth story in the last decade is puffed with the success of service sector and increasing outsourcing industries. Indians were recognized for being the global champions of IT-enabled services. It includes the airlines, healthcare, mobile phone, IT services etc. though are globally comparable but unable to compete the world-beaters. The sector raised the share ..
Topics: manufacturing in India • Product based industries in India • Tejas networking system