Mantle Current Affairs, GK & News
A recent study revealed that the North Atlantic Craton, an ancient continent fragment, was 10% more expansive than previously thought. Craton Cratons are parts of the continental crust that are billion years old. They are stable fragments that act as 'continental nuclei'- they gather and anchor other continental blocks around them. They are ancient continents ..
Topics: Craton • Earth's Crust • Mantle • North Atlantic
A new study proposed that the 'basal magma ocean' of the earth, and not its core, is responsible for the earth's magnetic field. Dynamo Theory The dynamo theory gives the mechanism by which stars and planets generate magnetic fields around them. It postulates that an electrically conductive fluid that is rotating and convecting in the ..
Topics: Earth's Evolution • Earth's magnetic field • Mantle • Silicate
The Deep Carbon Observatory (DCO) is a global research program to outreach carbons role on Earth. It is a community of scientists including physicists, biologists, geo – scientists and chemists working across several traditional disciplinary lines. Key highlights of DCO research It has found that there are ultra – deep diamonds at 670 km depth ..
Month: Current Affairs - October, 2019
Category: Environment Current Affairs
Topics: Carbon • Carbon cycle • Carbon dioxide • carbon dioxide emissions • crust • Deep Carbon Observatory • Earth observation project • evolution of life • Interior of Earth • Mantle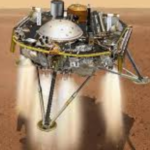 National Aeronautics and Space Administration's (NASA's) InSight lander spacecraft has detected what's believed to be a "marsquake" on the Red Planet. NASA scientists are still working to confirm the source of the faint trembling. Scientists believe the trembling may not be due to wind or movement of the lander's robotic arm but from below the ..
Month: Current Affairs - April, 2019
Category: Science & Technology Current Affairs
Topics: Core • crust • Earth • Exoplanets • InSight lander spacecraft • Mantle • Mars • marsquake • Mercury • NASA • National Aeronautics and Space Administration • Red Planet • Venus
Geologists have discovered a mineral known as calcium silicate perovskite (CaSiO3) trapped inside a tiny diamond that was mined from less than a kilometer of the earth's surface at the Cullinan Mine in South Africa.  For so long, the mineral existed in theory in spite of the fact it is fourth most abundant mineral inside ..
Topics: Academic disciplines • Geology • Mantle • Perovskite • Perovskites • Petrology • Physical sciences • Planetary geology • Silicate minerals • Silicate perovskite • Structure of the Earth