Lunar Reconnaissance Orbiter Current Affairs, GK & News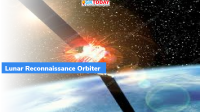 The Lunar Reconnaissance Orbiter or LRO was launched by NASA in 2009. The LRO has created a 3 – D map of the moon's surface at 100 metre resolution. What are the key contributions of LRO? In 2019, LRO founded the crash site of the moon lander Vikram. The Vikram lander was carried by Chandrayaan ..
The Lunar Reconnaissance Orbiter (LRO) is a NASA robotic spacecraft currently orbiting the Moon in an eccentric polar mapping orbit. It is in news because by using NASA's LRO, scientists at the Planetary Science Institute have observed water molecules moving around the dayside of the Moon. According to the study published in the journal Geophysical ..
Topics: Exploration of the Moon • Laser communication in space • Lunar Precursor Robotic Program • Lunar Reconnaissance Orbiter • Lunar rovers • Lunar South Pole • Lunar water • Moon • Spacecraft • Spaceflight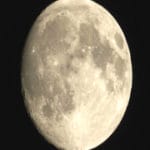 According to new study based on data from India's Chandrayaan-1 mission and NASA's Lunar Reconnaissance Orbiter (LRO), Moon's water may be widely distributed across its surface and not confined to particular region or type of terrain. The results contradict some earlier studies, which had suggested that more water was detected at Moon's polar latitudes and ..
Month: Current Affairs - February, 2018
Topics: Chandrayaan-1 mission • Lunar Reconnaissance Orbiter • NASA • Science and Technology
This Post Published on 20.6.09June 18, 2009 : Current carbon dioxide levels highest in past 2.1 mn yearsJune18, 2009 : NASA starts back to moon with dual missionJune18, 2009 : Oceansat 2 to be ready by AugustJune19, 2009 : New global programme to save tigers to link IndiaJune 18, 2009 : Current carbon dioxide levels ..
Month: Current Affairs - June, 2009
Topics: Carbon dioxide in Earth's atmosphere • Chemical compounds • Greenhouse gases • In India • Indian Space Research Organisation • LCROSS • Lunar Reconnaissance Orbiter • Moon • NASA • Oceansat-2 • Spacecraft • Spaceflight