Liquids Current Affairs, GK & News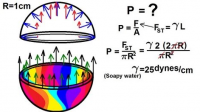 Bubbles in a liquid move upwards. Eg: carbon dioxide bubbles in a carbonated drink. But when a bubble is trapped in a narrow vertical column of liquid, it does not appear to move upwards. This has remained a mystery until now. Scientists at the Ecole Ploytechnique Federale de Lausanne (EPFL) have solved this mystery using ..
Topics: Bubble • Carbonated drink • Fluid dynamics • Liquids • Physical sciences • Soft matter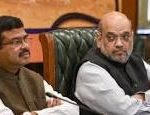 On 18 Nov, Union Home Minister Amit Shah through video-conferencing inaugurated First Winter-Grade Diesel outlet for Ladakh .  The winter-grade diesel has been developed by the Indian Oil Corporation Limited (IOCL) to address the problem of loss of fuel during extreme winter conditions.   The move will help to address the problem faced by people due ..
Topics: Chemical substances • Diesel engines • Diesel fuel • Fuels • Geography of Jammu and Kashmir • Hydroelectric power in Himachal Pradesh • Indian companies established • Indian Oil Corporation • Ladakh • Liquids
For the second year in a row, Iraq has become India's top crude oil supplier in 2018-19 fiscal year and meet more than a fifth of the country's oil needs. According to official data sourced from the Directorate General of Commercial Intelligence and Statistics, Iraq sold 46.61 million tonnes (mt) of crude oil to India ..
Topics: Chemistry • Indian Basket • Liquids • Oil and gas industry in India • Oil fields • petroleum • Physical sciences • Sanctions against Iran
In Bangaluru, the Government of Karnataka has declared 2019 as the 'Year of Water (or Jalavarsha)' to emphasise the importance of water becoming a scarce commodity and the need to conserve it. The declaration will apply to all government departments. This initiative is expected to spread water literacy, focus on conservation, promotion of smart water ..
Topics: Chemical compounds • Chemistry • Liquids • Matter • Oxides • Water
India's first military flight using blended bio-jet fuel has been successfully flown by Indian Air Force (IAF) through an AN-32 transport aircraft in Chandigarh. Bio-jet fuel is made from Jatropha oil sourced from the Chattisgarh Biodiesel Development Authority and processed at the CSIR-Indian Institute of Petroleum, Dehradun. The project is a combined effort of IAF, ..
Topics: Aviation fuels • Biodiesel • Council of Scientific and Industrial Research • Defence Research and Development Organisation • Fuels • India • Indian Air Force • Indian Institute of Petroleum • Jatropha curcas • Jet fuel • Liquid fuels • Liquids