Kerala Sahitya Akademi Award Current Affairs, GK & News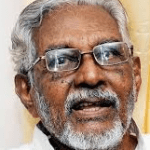 Renowned poet and Malayalam scholar Puthussery Ramachandran recently passed away at the age of 91. He played an instrumental role in making Malayalam getting recognised as a classical language by the union government in 2013. Ramachandran has won several prestigious awards, including the Sahitya Akademi award, the Ezhuthachchan Puraskaaram in 2015, Kerala Sahitya Akademi award ..
Topics: Kerala Sahitya Akademi Award • Malayalam • Malayalam language • Sahitya Akademi
Well-known Malayalam poet Paloor Madhavan Namboothiri (86), popularly known as M N Paloor, has passed away at Kovoor, Kerala on October 9, 2018. Paloor, one of the early poets to have modern views, is the author of some of the finest Malayalam poems of the latter half of the 20th century. His poems traced the ..
Topics: Indian Literature • Kerala Sahitya Akademi • Kerala Sahitya Akademi Award • Literary awards • M. N. Paloor • Malayali people • Paloor • Writers