Kangaroo Current Affairs, GK & News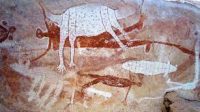 Recently, a kangaroo painting was identified in Australia with the help of some ancient wasps. The kangaroo painting was created over 17,000 years ago by Aboriginal community artists. The painting was identified as Australia's oldest intact rock art. Highlights The painting is a two-metre-long artwork. It was discovered on the sloped ceiling of rock shelter ..
Month: Current Affairs - February, 2021
Category: Art & Culture Current Affairs • International Current Affairs
Topics: Australia • Indigenous Australian art • Kangaroo • kangaroo painting • Kimberley region
Researchers reported that the swamp wallaby is the only mammal that is pregnant and lactating throughout its adult life. About the Animal: Swamp wallaby is a species of marsupial and the only living member of the Wallabia genus. It is found in the woodlands and forests of Australia. They are solitary (except while feeding) and ..
Topics: Embryonic Diapause • European Brown Hare • Kangaroo • Marsupials • Wallaby
Professor Zuckermann of Australia is preserving the linguistic diversity of Australia. Australia is said to have had 250 languages during the colonial. However due to its geographical isolation, many are unknown. One of the languages called the Guugu gave the word "Kangaroo". Unfortunately, there are only 775 people speaking the language. The reason behind the ..
Topics: Australia • Contents • Human communication • Kangaroo • Language • Linguistics • Oceans
Australian Emu is known for its speed and height. It is the second largest living bird by height. Like Kangaroo it is also it is incapable of walking backward.
Topics: Kangaroo
In 1893 Newzland became the first country in the world to give women the right to Vote, while Australia was the second country, it granted right to vote for women in the year 1902.
Topics: Kangaroo • Newzland • right to vote • women