Jim Mattis Current Affairs, GK & News
The 54th Munich Security Conference (MSC-2018) was held in Munich, Germany from February 16-18 to discuss pressing security issues, including North Korea's nuclear and missile programs and the Syrian civil war. US Defense Secretary Jim Mattis, Russian Foreign Minister Sergei Lavrov and Japanese Foreign Minister Taro Kono attended the meet. The issue of North Korea's ..
Topics: Awards • International Relations • Jim Mattis • Munich Security Conference • Politics by country • Sergey Lavrov
India and the United States have agreed to implement Helicopter Operations from Ships other Than Aircraft Carriers (HOSTAC) programme to strengthen maritime security. The decision in this regard was taken by Defense Minister Nirmala Sitharaman and her US Counterpart Jim Mattis during their meeting in Philippines on October 25, 2017 on the sidelines of the ..
Topics: Aircraft carrier • Association of Southeast Asian Nations • Awards • Foreign relations of India • Jim Mattis • Southeast Asia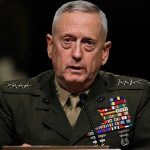 President elect Trump has picked up retired Marine General James Mattis for the coveted post of Secretary of Defence. Mattis had retired as Chief of US Central Command in 2013 has often quoted that US lacks an overall and effective strategy in middle-east. Mattis has often stood against the relevance of "political Islam" and has ..
Topics: Awards • Current Affairs – April, 2014 • Hoover Institution • Jim Mattis • Mattis • Military of the United States • Politics by country