Page-3 of
Jacinda Ardern Current Affairs, GK & News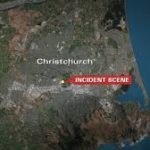 In a tragic turn of events, 49 people were gunned down by at least one gunman and leftover 20 seriously wounded while men were offering prayers at two mosques in New Zealand in the worst ever mass shooting in the history of New Zealand. Prime Minister Jacinda Ardern has condemned the attack. The gunman later ..
Category: Uncategorized
Topics: 8chan • Anti-Muslim sentiment • Christchurch mosque shootings • Islam • Islamophobia • Jacinda Ardern • Mosque • Violence against Muslims
Jacinda Ardern, the leader of the Labour Party, has officially been sworn in as the prime minister of New Zealand on October 26, 2017. She promised to tackle climate change, eradicate child poverty and improve the lives of the country's most vulnerable people.
Topics: Ardern • Constitution of New Zealand • Electoral history of Jacinda Ardern • Government of New Zealand • Jacinda • Jacinda Ardern • Ministry for Children • New Zealand Labour Party • Politicians • Politics by country • Prime Minister of New Zealand