Iran?United States relations Current Affairs, GK & News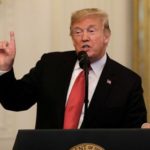 The US Congress approved a resolution to restrain the US President Donald Trump from attacking Iran. The House of Representatives joined the Senate in support of the resolution. As per the resolution, no military action shall be taken against Iran without an explicit vote from the Congress. Earlier, a rocket fired on a military base ..
Topics: Donald Trump • Iran?United States relations • President of United States
For the first time, the Trump administration has labelled Iran's elite Islamic Revolutionary Guard Corps as a foreign terrorist organization. Further, the move seems to increase pressure on Iran's regime and to bring a new level of tension between the two countries, as Iran's leaders have said they will retaliate in kind. US sanctions have ..
Topics: Foreign relations • Foreign relations of Iran • Foreign relations of the United States • Government of Iran • Iran?United States relations • Islamic Revolutionary Guard Corps • Military of Iran • Nuclear energy in Iran • Politics of Iran • Sanctions against Iran • United States embargoes