Page-5 of
Indian Ocean Current Affairs, GK & News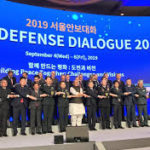 The Indian Defence Minister made a crystal clear statement about India's military might on the sidelines of the Seoul Defence Dialogue 2019. The Defence Minister stated that while India has never been an aggressor nor attacked or initiated conflict with any nation, it would not hold back if any other country attacked it or attempted ..
Topics: Foreign relations of India • Indian Ocean • Indo-Pacific • Oceans • Pacific Ocean • United Service Institution
INS Sagardhwani, Oceanographic research vessel of Defence Research and Development Organisation (DRDO) has embarked on a strategic-cum scientific oceanic expedition from Kochi to enhance collaboration with eight Indian Ocean Rim (IOR) nations. The mission is being implemented by the Defence Research and Development Organisation's (DRDO) Kochi-based Naval Physical and Oceanographic Laboratory (NPOL). INS Sagardhwani has already ..
Topics: Indian Ocean • Indian Ocean Rim Nations • Indonesia • INS Kistna • INS Sagardhwani • Malaysia • Myanmar • Naval Physical and Oceanographic Laboratory • Sagar Maitri Mission-2 • Singapore • Thailand
The US Senate has passed the National Defence Authorisation Bill for the fiscal year 2020. The legislative provision brings India at par with America's NATO allies like South Korea, Australia and Japan. Strengthening India-US Relations The bill provides for an enhanced US-India defence cooperation in the Indian Ocean in the areas of humanitarian assistance, counterterrorism, ..
Topics: humanitarian assistance • India-US • Indian Ocean • Japan • major defence partner • maritime security • National Defence Authorisation Bill • NATO • South Korea • US
The term Indo-Pacific denotes an economic and strategic community. Geographically it refers to the vast areas around Indian and the Pacific Oceans between the east coast of Africa and the American west coast and their several littoral countries. Genesis of the Term One of the earliest references to the term Indo-Pacific was noted in a ..
Topics: Countries • Global politics • India • Indian Ocean • Indo • Indo-Pacific • Marine realms • Oceans • Pacific Ocean • Quadrilateral Security Dialogue • Subrahmanyam Jaishankar
In Bangkok , the 2019 edition of Quadrilateral Security Dialogue (Quad) was attended by senior officials of India, US, Japan and Australia to hold consultations on their collective efforts for a free, open and inclusive Indo-Pacific region and to reaffirm their shared commitment to preserving and promoting the rules-based order in the region. The four ..
Topics: Brunei • Countries • Global politics • Indian Ocean • Indo-Pacific • Marine realms • Oceans • Pacific Ocean • Quad • Quadrilateral Security Dialogue