Page-60 of
India Current Affairs, GK & News
For the first time, researchers have recently sighted nests of the grizzled giant squirrel (Ratufa macroura) at Pakkamalai Reserve Forests near Gingee (Tamil Nadu) in the Eastern Ghats. It is an endangered species listed under Schedule I of the Wildlife Protection Act of 1972. The grizzled giant squirrel is usually known to nest in the ..
Topics: Anamalai Tiger Reserve • Chinnar Wildlife Sanctuary • Geography of Coimbatore • Geography of India • grizzled giant squirrel • India • Mammals of Asia • Oriental giant squirrel • Ratufa • South Western Ghats moist deciduous forests • South Western Ghats montane rain forests • States and union territories of India
Dr. NR Madhava Menon (84), the renowned academician and father of modern Indian Legal Education, passed away in Thiruvananthapuram, Kerala on May 8, 2019. He is credited for revolutionizing the field of legal education by establishing National Law Schools and by conceptualizing the 5-year integrated LLB programme. He was the founder Director of the National ..
Topics: Autonomous law schools in India • Bhopal • Government of India • India • Law school • Legal education • Menon • N. R. Madhava Menon • National Judicial Academy • National Law School of India University • Thiruvananthapuram • West Bengal National University of Juridical Sciences
In a significant victory, India's Jagjit Pavadia has been re-elected to the International Narcotics Control Board (INCB) for a 5-year term beginning 2nd March, 2020. She posted the highest number of votes at 44. Ms Pavadia has been a member of the INCB since 2015 and her current term is set to expire in 2020. ..
Topics: Countries • Drug prohibition law • India • Intergovernmental organizations • International Narcotics Control Board • Narcotic • Organizations • United Nations
Journalist Nileena MS, a reporting fellow with The Caravan, has won the prestigious ACJ Award for Investigative Journalism in print/online category for the year 2018. She won the award for her story titled "Coalgate 2.0: The Adani Group reaps benefits worth thousands of crores of rupees as the coal scam continues under the Modi government". ..
Topics: ACJ • Adani • Adani Group • Companies based in Ahmedabad • India • Indian coal allocation scam • Investigative journalism • Rajasthan Rajya Vidyut Utpadan Nigam • States and union territories of India • Vidyut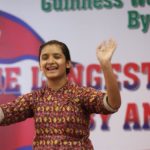 An 18-year old girl from Nepal named Bandana set a Guinness World Records on 'Longest Dancing Marathon by an Individual'. She danced exclusively to Nepalese music continuously for 126 hours (over five days). Old Record She broke record set by India's Kalamandalam Hemlatha, who danced continuously for 123 hours and 15 minutes in 2011. He ..
Category: Awards, Persons & Places in News
Topics: Bandana • Guinness World Records on • India • Kalamandalam Hemlatha • Longest Dancing Marathon by an Individual • Mohiniyattam • Nepal