In Zimbabwe Current Affairs, GK & News
Cyclone Idai which had hit Zimbabwe earlier this month had caused massive flash floods and landslides which have completely destroyed huge tracts of cornfields in Zimbabwe's main agricultural provinces like Manicaland and Masvingo. This has led to the increasing issue of food insecurity in the African country. Farmers in the villages of Chipinge and Chimanimani, ..
Category: Uncategorized
Topics: Africa • Chimanimani • Chipinge • Countries • Cyclone Idai • Geography of Africa • In Zimbabwe • Manicaland Province • Member states of the African Union • Member states of the United Nations • Mozambique • Zimbabwe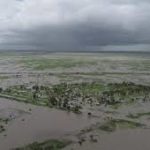 31 people have been confirmed dead in a massive cyclone which has come to hit parts of eastern Zimbabwe. Idai, a huge cyclone has also caused havoc in the neighbouring states of Mozambique and Malawi. It has been reported that over 1.5 million people have been hit by the Cyclone in three different countries. Heavy ..
Category: Uncategorized
Topics: Africa • Beira, Mozambique • Chimanimani • Continents • Cyclone Dineo • Cyclone Idai • Geography of Africa • In Zimbabwe • Mozambique
Emmerson Mnangagwa was officially sworn-in as the new President of Zimbabwe on August 26, after narrowly winning the 2018 Zimbabwean general election. It was the country's first election since the ousting of strongman Robert Mugabe. The President of Zimbabwe is the head of state of Zimbabwe, elected by direct universal suffrage using a two-round system. ..
Topics: Africa • Countries • Emmerson Mnangagwa • Government of Zimbabwe • Harare • In Zimbabwe • President of Zimbabwe • Robert Mugabe • Shona people • Zimbabwe
Emmerson Mnangagwa, the former Vice President, will be sworn in as the President of the Zimbabwe on November 24, 2017 after the resignation of Robert Mugabe following a military intervention. The ruling ZANU-PF party has nominated him to fill the vacancy left by Mr Robert Mugabe. Mr Mugabe stepped down on November 21 after 37 ..
Topics: Emmerson Mnangagwa • Government of Zimbabwe • Grace Mugabe • In Zimbabwe • Robert Mugabe • Shona people • Zimbabwe • Zimbabwean coup d'état