In Sweden Current Affairs, GK & News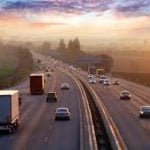 World Bank has released a report titled "Delivering Road Safety in India" during the ongoing 'Third Global Ministerial Conference on Road Safety' in the capital of Sweden, Stockholm. As per the report, India has to invest an estimated amount of additional $109 billion in road safety in the next decade.  With the investment, economic benefits ..
Topics: In Sweden • Road safety • World Bank
The term "BRS Conventions" is a collective term for three different conventions viz. Basel, Rotterdam and Stockholm Conventions. The purpose of clubbing these conventions was to ensure that a topic of common concern for the three Conventions is discussed. The thirteenth meeting of the Conference of the Parties to the Basel Convention (BC COP-13), the eighth meeting ..
Topics: Basel Convention • Chemical safety • Environment • Environmental law • Environmental treaties • Hazardous waste • In Sweden • Law by country • Politics by country • Rotterdam Convention • Stockholm Convention on Persistent Organic Pollutants • Waste