In Israel Current Affairs, GK & News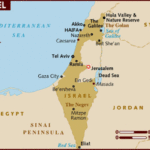 The Prime Minister of Israel, Benjamin Netanyahu was recently seen in news as he claimed victory in the general elections held in the country. This edition of the election is the country's third election in less than a year. The main exit polls indicated that Mr Netanyahu is in a strong position to form the ..
Topics: In Israel • israel • Politics of Israel
Many hundreds of Palestinians have gathered at the border of Israel-Gaza fence to mark the first anniversary of the Great March of Return protests. People had gathered despite facing the Israeli tanks and troops which had built up on the fortified border. Many live rounds, rubber bullets and even tear gas had been used by ..
Category: Uncategorized
Topics: Criminal rock-throwing • Gaza City • Gaza Strip • In Israel • State of Palestine
Israel has launched its first environmental research satellite named as Venus (Vegetation and Environment Monitoring New Micro-Satellite). It is a joint venture between the Israel Space Agency (ISA) and its French counterpart CNES. The Venus satellite is an earth-observation micro-satellite. It is considered the smallest satellite of its kind in the world. It weighs only ..
Topics: CNES • In France • In Israel • Israel Space Agency • Outer space • Satellite • Spacecraft • Spaceflight • VENµS