Humayun Current Affairs, GK & News
Humayun's First Reign: 1530-1540 Introduction to Humayun When Babur left the throne to his eldest, lovable son Humayun, it was not a bed of roses. When he ascended the throne, he was a young man of 23 years, but not without experience. He was one of the commanders of his father and governed the frontier ..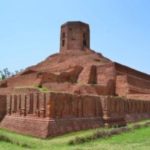 According to a notification issued by Union Ministry of Culture, Chaukhandi Stupa, an ancient Buddhist site located in Sarnath, Uttar Pradesh (UP) has been declared as 'protected area of national importance' by Archaeological Survey of India (ASI). For declaring the stupa as protected area government sought public feedback on 8 March 2019 for a period ..
Month: Current Affairs - June, 2019
Category: Art & Culture Current Affairs
Topics: Archaeological Survey of India • Bodh Gaya • Buddha • Chaukhandi  Stupa • Dharmachakra Pravartana Mudra • Govardhan • Gupta period • Hiuen Tsang • Humayun • Panchavargiya Bhikshus • Protected Area of National Importance • Raja Todarmal • Sarnath • Union Ministry of Culture
Isa Khan Niyazi was a noble in the courts of Sher Shah Suri and his son Islam Shah. His tomb built in 1546-47AD predates Humayun's Tomb by over two decades. This splendid tomb was a culmination of the octagonal tomb style of the earlier Sayyid & Lodi dynasties. Isa Khan's Tomb stands on the entrance ..
Month: Current Affairs - December, 2011
Topics: Akbar • Architecture • Humayun • Humayun's Tomb • India • Indian Muslims • Isa Khan Niazi • Islamic architecture • Mughal architecture • Sher Shah Suri • Sur Empire • Visual arts