Page-7 of
Humanitarian aid Current Affairs, GK & News
The World Humanitarian Day (WHD) is observed every year on August 19 to pay tribute to aid workers who risk their lives in humanitarian service, and to rally support for people affected by crises around the world. The 2017 WHD campaign "#NotATarget" follows the UN Secretary-General's report on the protection of civilians in armed conflict, ..
Topics: Aid • Civilian • Foreign policy • Global politics • Humanitarian aid • International Relations • WHD • World Humanitarian Day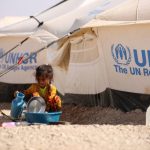 In a record appeal, the UN has expressed need for $22.7 billion to cover humanitarian projects of relief which will cover 93 million people across 33 countries. The appeal has shown the state of humanitarian crisis prevalent in the world. The massive need has not been seen ever since World War II and has been ..
Topics: Cultural globalization • Demography • Forced migration • Human rights abuses • Humanitarian aid • Internally displaced person • Refugee crisis