Page-2 of
Greenland Current Affairs, GK & News
The Greenland glacier was one of the fastest shrinking ice and snow masses on the earth. A NASA study proves that it is growing again. The Jakobshavn glacier was retreating at 3 km annuallu. In the past two years it has now started to grow at the same pace. However scientists beleive that this is ..
Topics: Disko Bay • Geography • Glacier • Glaciology • Greenland • Ilulissat • Jakobshavn Glacier • Landforms • Montane ecology • Physical geography • Retreat of glaciers since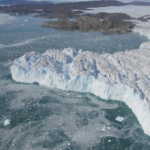 The study of Technical University of Denmark (DTU) Space Lab published in the US journal Proceedings of the National Academy of Sciences on changes to Greenland's ice sheet lists the following findings: Greenland's melting ice caused sea levels to rise and resulted in the disappearance of glaciers four times faster in 2013 than in 2003 and ..
Month: Current Affairs - January, 2019
Category: Environment Current Affairs
Topics: Climate change • Greenland • Melting of Ice • Sea level increase