Page-5 of
Government of Pakistan Current Affairs, GK & News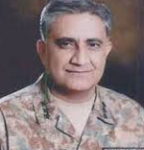 Prime Minister Nawaz Sharif has appointed Lt Gen Qamar Javed Bajwa as Pakistan's new army chief and has elevated him to the position of four-star general. He will succeed the popular military leader Gen Raheel Sharif. General Sharif who has been credited with improving security and driving back Islamist militant groups, has become the first ..
Topics: Bajwa • Government of Pakistan • Military • Nawaz Sharif • Punjabi people • Qamar Javed Bajwa • Raheel Sharif • Zubair Mahmood Hayat
Pakistan's security structure was breached when terrorists belonging Tehreek-e-Taliban Pakistan (TTP) attacked Pakistan Air Force's Minhas Base in Kamra (a two-hour drive from Islamabad). Although all the terrorists were killed in the battle, the assault killed more than a dozen security personnel and destruction of three JF-17 thunder aircrafts. The attack was done to ..
Month: Current Affairs - August, 2012
Topics: Anti-Shi'ism • Attock District • CAC/PAC JF-17 Thunder • Government of Pakistan • Kamra • Pakistan • Pakistan Aeronautical Complex • Pakistan Air Force • Politics by country • Taliban • Tehrik-i-Taliban Pakistan
Pakistan freed Indian prisoner Surjeet Singh who has served a life term following his arrest on charges of spying in the 1980s. Singh was freed from Kot Lakhpat Jail. Indian team present at Wagah will receive over 300 fishermen being repatriated. Surjit Singh was arrested by Pakistani police on allegations of spying during the rule ..
Month: Current Affairs - July, 2012
Topics: Central Jail Lahore • Ghulam Ishaq Khan • Government • Government of Pakistan • Muhajir people • Muhammad Zia-ul-Haq • Pakistan • Presidents of Pakistan • Punjabi people • Sarabjit Singh • Surjit • Zia-ul-Haq
Raja Parvez Ashraf, candidate of ruling Pakistan People's Party is the new Prime Minister of Pakistan. He was elected in a special session of the National assembly held in Islamabad after getting 211 votes out of 300 cast in the voting The special session of National Assembly was called to elect a new PM after ..
Month: Current Affairs - June, 2012
Topics: Government of Pakistan • Hazar Khan Bijarani • Members of the National Assembly of Pakistan • Pakistan • Pakistan Peoples Party • Politics of Pakistan • Prime Ministers of Pakistan • Punjabi people • Raja Pervaiz Ashraf • Saraiki people • Shahjahan Yousuf • Yousaf Raza Gillani
The Supreme Court of Pakistan debarred Pakistan Prime Minister Yusuf Raja Gilani from his office and also disqualified Gilani as the member of the National Assembly, the lower house of the Majlis-e-Shoora (Parliament). The court's ruling came after Gilani refused to launch probe against Pakistan President Asif Ali Zardari.  The 3-judge Bench of the highest ..
Month: Current Affairs - June, 2012
Topics: Asif Ali Zardari • Bhutto family • Gilani • Government of Pakistan • Iftikhar Muhammad Chaudhry • Pakistan • Pakistan Peoples Party • Pakistani people • Parliament of Pakistan • Prime Ministers of Pakistan • Punjabi people • Zardari