Government agencies of Bangladesh Current Affairs, GK & News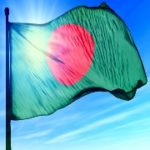 The High Court of Bangladesh has recently ruled that 'Joy Bangla' will be the national slogan of Bangladesh. The Court also asked the authorities to take appropriate steps to make all the people in constitutional posts, state officials, teachers and students use 'Joy Bangla'. The Court has asked the government to submit the compliance report ..
Topics: Bangladesh • Government agencies of Bangladesh • In Bangladesh
The 2nd phase of the biggest US- Bangladesh Navy exercise titled 'Cooperation Afloat Readiness and Training (CARAT)- 2019' is conducted in Chattogram from 4 to 7 November with different subject-based training and exercise. The exercise provides an opportunity to gain a better understanding of the operational activities of the Navies of two countries and to ..
Topics: Bangladesh • Bangladesh Navy • BNS Somudra Joy • Carat • Cooperation Afloat Readiness and Training • Countries • Government agencies of Bangladesh • International Organizations • South Asia
Dr Susane Giti has been appointed the first-ever female major general in the 47 years history of Bangladesh. She was presented with the rank badge of Major General by Bangladesh Army chief General Aziz Ahmed and Quarter Master General Lt General Md Shamsul Haque on September 30. Currently, she is the HOD of pathology department ..
Topics: Aziz Ahmed • Bangladesh Armed Forces • Bangladesh Army • Government agencies of Bangladesh • Government of Bangladesh • Inter-Services Public Relations • ISPR • Military • Military of Bangladesh • Shamsul • Shamsul Haque • Susane Giti
The naval forces of India and Bangladesh will conduct the joint patrol exercise "Coordinated Patrol (CORPAT)" in the Bay of Bengal from June 27. The first edition of 3-day naval exercise will be inaugurated by Admiral Sunil Lanba, Chief of the naval staff (CNS) of India, who is visiting Bangladesh from June 24. The purpose ..
Topics: Bangladesh Navy • BNS Abu Bakar • Government agencies of Bangladesh • Government of Bangladesh • Indian Navy • Malabar • Military • Ships • Sunil Lanba • Zahir Uddin Ahmed