Ghaznavi Current Affairs, GK & News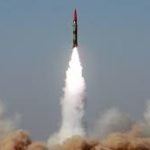 On Thursday, 23rd January 2020, Pakistan conducted a training launch of nuclear-capable short-range ballistic missile 'Ghaznavi', successfully. The surface-to-surface missile can strike targets up to 290 kilometers. The Pakistan Army's media wing, Inter-Services Public Relations (ISPR)  announced that the training launch was part of the Field Training Exercise of the Army. The training aimed to ..
Month: Current Affairs - January, 2020
Topics: Ballistic missile • Ghaznavi • National Development Complex • Pakistan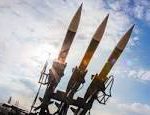 On 18 Nov, Pakistan conducted a successful test launch of a surface-to-surface ballistic missile 'Shaheen-I' missile capable of delivering all types of warheads up to 650 kilometres. The launch was held as part of a training exercise "aimed at testing the operational readiness of Army Strategic Forces Command. The objective of the launch was at ..
Topics: Agni • Agni-III • Ballistic missiles • Ghaznavi • Guided missiles • Missiles • Shaheen-I • Short-range ballistic missiles • Strategic Forces Command
Pakistan successfully test-fired a short-range Hatf 9 (Nasr) missile Range: 60 km Capable of carrying nuclear weapons Pakistan's 3rd ballistic missile test since April 2012, after India successfully test-fired the inter-continental Agni 5 missile Pakistan already has nuclear-capable Hatf-IV with a range of 1000 km, nuclear-capable Hatf-III, with a range of 290 km
Month: Current Affairs - June, 2012
Topics: Abdali-I • Agni • Ghaznavi • Guided missiles • Hatf-I • Missiles • Nasr • Pakistani missile research and development program • Science and technology in Pakistan • Short-range ballistic missiles • Tactical ballistic missiles • Weapons
'Hatf-II' a nuclear capable short range ballistic missile test fired by Pakistan Pakistan test-fired the Hatf-II: Nuclear capable Short range 180 Kms (113 Miles) Surface-to-surface ballistic missile The Hatf-II will furnish an operational level capability to Pakistan's Strategic Forces in addition to the strategic and tactical level capability already possessed by Pakistan. The short range ..
Month: Current Affairs - March, 2012
Topics: Abdali-I • Ballistic missile • Ghaznavi • Guided missiles • Hatf-I • Missile defense • Missiles • Science and technology in Pakistan • Short-range ballistic missiles • Surface-to-surface missile • Tactical ballistic missiles • Weapons