Geostationary orbit Current Affairs, GK & News
ISRO announced that it would be postponing the launch of the GISAT-1, its first geo imaging satellite, due to technical reasons. About the Satellite GISAT-1 or Geo Imaging Satellite 1 is the first such project of the ISRO. It is to be launched from the 2nd launch pad of the Satish Dhawan Space Centre at ..
Topics: Geo Imaging • Geostationary orbit • GSLV • ISRO • Satish Dhawan Space Centre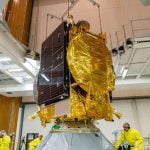 The space agency of the Government of India- Indian Space Research Organization (ISRO) will launch a communication satellite GSAT-30 from the overseas department of France on the northeast coast of the South America continent, French Guiana on Friday, 17th January 2020. The GSAT 30 satellite that derives its heritage from the earlier INSAT/GSAT satellite series ..
Month: Current Affairs - January, 2020
Topics: Ariane 5 • French Guiana • Geostationary orbit • Government of India • GSAT • GSAT 30 • Indian Space Research Organization • INSAT-4A • ISRO • South America • South America continent
SpaceX successfully deployed all 60 Starlink satellites into orbit through Falcon 9 rocket. The Falcon 9 rocket was landed back successfully for the third time i.e. going to space and back. Starlink Project Starlink is SpaceX s ambitious internet-from-space initiative. The 60 satellites launched were part of the initial probe and do not have all ..
Topics: Falcon 9 rocket • Geostationary orbit • Internet connectivity • internet-from-space • SpaceX • Starlink Project
Recently, China has successfully launched its first geostationary BeiDou-3 satellite 'G1Q' into high orbit (about 36,000 km above the Earth) to boost its home-grown BeiDou global satellite navigation system. It was launched from the Xichang Satellite Launch Centre in the southwestern Sichuan Province. In a geostationary orbit, following the Earth's rotation, it will view the ..
Topics: Atomic clock • BeiDou • Galileo • Geostationary orbit • Global Positioning System • GLONASS • Satellite • Satellite navigation • Satellite navigation systems • Satellites • Spacecraft • Spaceflight
Geostationary Operational Environmental Satellite-S (GOES-S) is an advanced weather satellites launched by NASA with the western US at focus. Besides the West Coast, Alaska and Hawaii, GOES-S also will keep watch over Mexico and Central America. GOES-S will provide astonishingly fast, crisp images of hurricanes, wildfires, floods, mudslides and other natural calamities. GOES-S is a ..
Topics: Geostationary Operational Environmental Satellite • Geostationary orbit • GOES 1 • GOES-16 • GOES-17 • GOES-T • GOES-U • National Oceanic and Atmospheric Administration • Satellites • Spacecraft • Spaceflight • Weather satellite