Fugitives Current Affairs, GK & News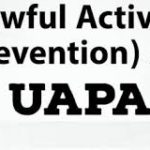 The Indian Government has classified several dreaded terrorists like Masood Azhar, Dawood Ibrahim, and Hafiz Saeed as individual terrorists under the UAPA Act. This decision was taken nearly a month after the Indian Parliament allowed this crucial amendment to the UAPA law. What has happened? The Indian Union Government has declared Dawood Ibrahim, Hafiz Saeed ..
Topics: Azhar • Bombay bombings • Crime • Crime in India • Dawood Ibrahim • Fugitives • Hafiz Saeed • Islamic terrorism in India • Masood Azhar • Punjabi people • Terrorism in Jammu and Kashmir • Unlawful Activities (Prevention) Act
Former liquor baron Vijay Mallya has become the first Indian businessman to be declared a Fugitive Economic Offender (FEO) under the newly enacted Fugitive Economic Offenders Act of 2018 by the Special Prevention of Money Laundering Act (PMLA) court in Mumbai. The tag now allows the government to confiscate and sold his properties in alleged ..
Topics: Asset forfeiture • Crime • Fraud • Fugitive Economic Offender • Fugitive Economic Offenders Act • Fugitives • Kingfisher Airlines • Modi administration • Money Laundering • PMLA • Prevention of Money Laundering Act • Vijay Mallya
During the monsoon session of Parliament, the Lok Sabha passed the Fugitive Economic Offenders Bill 2018, which will empower authorities to attach and confiscate properties and assets of economic offenders like loan defaulters & fraudsters who flee the country. The bill will replace an ordinance promulgated by President Ram Nath Kovind in April 2018. It ..
Topics: Asset forfeiture • Crime • Fraud • Fugitive Economic Offender • Fugitive Economic Offenders Act • Fugitives • Modi administration • Money Laundering • Scheduled offence