Freemen of the City of London Current Affairs, GK & News
Bhagat Ram Vats (97), a former PTI senior correspondent who covered India's first Lok Sabha polls, has passed away on 18th September 2019. He started his career with The Statesman, New Delhi, and later joined the Press Trust of India (PTI). He travelled extensively with first Prime Minister Jawaharlal Nehru for 14 years & covered ..
Topics: Bhagat Ram • Freemen of the City of London • Indian nationalists • Indian people • Jawaharlal Nehru • Lok Sabha • Members of the Lok Sabha • Press Trust of India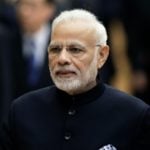 Prime Minister Narendra Modi is slated to be honored by a special honor given by the Gates Foundation for his exceptional leadership and dedication to the Swachch Bharat Abhiyan (SBA). The SBA is a nationwide program endeavor which aims to motivate the people to clean up the public spaces of the nation. What has happened? ..
Topics: American people of German descent • Big History • Bill & Melinda Gates Foundation • Bill Gates • Businesspeople • Economy of the United States • Freemen of the City of London • Melinda Gates • Personal computing
The Nelson Mandela International Day (NMID) is celebrated every year on July 18 to pay tribute to South Africa's former president for his values, legacy and contribution to society. The day recognizes Mandela's values and his dedication to the service of humanity in: conflict resolution; race relations; promotion and protection of human rights; reconciliation; gender ..
Topics: Awards • Freemen of the City of London • Gender equality • Honorary Queen's Counsel • Mandela Day • Nelson Mandela • Orders, decorations, and medals • Saboteurs • South African people • Xhosa people
BVP Rao, who represented Archery Association of Assam, has been elected as the president of the Archery Association of India (AAI) in the controversial polls held under a High Court-appointed administrator. Rao beat Rupak Debroy of Tripura at the elections held at the Jawaharlal Nehru Stadium in New Delhi.
Topics: Archery Association of India • Freemen of the City of London • India • Indian people • Jawaharlal Nehru • Kashmiri people • Rao • Rupak • Tripura
Professor Shyama Prasad Ganguly from India has been awarded the Mexican Order of the Aztec Eagle, the highest civilian honour given to a foreigner by Mexico. He was decorated with the striking gold-yellow insignia by Mexican Ambassador Melba Pria at a ceremony in the India International Center (IIC) on November 19. The award was in ..
Topics: Freemen of the City of London • Ganguly • Indian people • Jawaharlal Nehru • Kashmiri people • Order of the Aztec Eagle