Page-7 of
Finance Commission Current Affairs, GK & News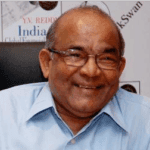 The Cabinet has approved the extension of the deadline for the submission of the Report of the 14th Finance Commission by two months to December 31, 2014. The Commission had sought extension of its earlier deadline of October 31 in order for it to 'examine financial projections and carry out consultations with the governments of Andhra Pradesh ..
Month: Current Affairs - November, 2014
Topics: Committees • Current Affairs - 2017 • Finance Commission • Public finance
The Kelkar's committee's recommendations were made public by the government for an informal debate by the stakeholders. The committee has suggested bold reform measures.  Kelkar Committe: A 3-member committee headed by the former Finance Secretary and 13th Finance Commission Chairman, Vijay L. Kelkar. Members: a) Vijay L. Kelkar b) Indira Rajaram and c) Sanjiv Mishra ..
Topics: Economy • Economy of India • Finance Commission • Finance Commission of India • Fiscal • Gasoline and diesel usage and pricing • National Food Security Act • Pricing • Transport economics
Events & Happenings:Defexpo India 2010Defexpo India 2010 is the the sixth edition in the series of biennial Land and Naval Defence Systems Exhibition held at Pragati Maidan, New Delhi from Feb 15 to 18, 2010. National Updates:Task Force on Project ElephantOn February 12, 2010, Ministry of Environment and Forests has set up a task force ..
Month: Current Affairs - February, 2010
Topics: Countries • Cricket • Current Affairs 2010 • Finance Commission • India • International Cricket Council • Organizations
1. What are State Finance Commissions?2. What are Functions of State Finance Commissions?3. Which sectors get Funds granted by State Finance Commission?4. In which state State Finance Commissions have been set up till now?5. What is Financial Emergency Under Article 360?6. What is Falcon?7. What is COBE? 1. What are State Finance Commissions?State Finance Commissions ..
Topics: Constitution of India • Finance Commission • Finance Commission of India • Finance in India • Government • Government of India • India • Panchayati Raj • Public finance • State Finance Commission