Euroscepticism Current Affairs, GK & News
The European Parliament will soon go to polls on May 23-26 and will see new and powerful contest as the four European far-right nationalist parties have stated that they have formed a new coalition and have also asked other like-minded parties to contribute to the same by joining the alliance. Matteo Salvini, who is the ..
Category: Uncategorized
Topics: Alternative for Germany • Anders Vistisen • European Alliance of Peoples and Nations • European Parliament party groups • Euroscepticism • Identity and Democracy • Lega Nord • Matteo Salvini • Political ideologies • Political parties • Politics of Europe • Us with Salvini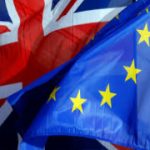 The IMF Chief Christine Lagarde has warned that the British exit from the European Union (EU) or Brexit will ruin the country's economy. She said this at the World Government Summit in Dubai on 10th February, 2019. What is Brexit? Brexit = Britain + Exit It is the idea of Britain leaving EU or the ..
Topics: Aftermath of the 2016 United Kingdom European Union membership referendum • Brexit • Brexit negotiations • European Union • European Union (Notification of Withdrawal) Act • European Union (Withdrawal) Act • Euroscepticism • United Kingdom invocation of Article 50 of the Treaty on European Union • Withdrawal from the European Union