Doping in Russia Current Affairs, GK & News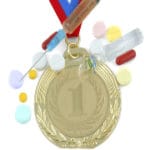 World Athletics Council imposed a USD 10 million on the Athletics Federation of Russia (RusAF) for breaching anti-doping rules. World Athletics has capped the number of Authorised Neutral Athletes (ANA) allowed to compete in the Tokyo 2020 Olympics and other specified senior events at 10. However, the number of authorised neutral athletes that can compete ..
Topics: Doping in Russia • Doping in sport • tokyo olympics
India has been ranked joint-sixth in the list of doping violations with 69 cases, same as that of Russia, according to World Anti-Doping Agency (WADA) report for samples collected in 2016. India improved its position to sixth after being joint-third for three consecutive years from 2013 to 2015. Though, the number of dope violations for ..
Topics: Corruption in Russia • Dope • Doping in Russia • Doping in sport • Sports • Wada • Winter Olympics • World Anti-Doping Agency