Dark matter Current Affairs, GK & News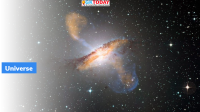 Recently, an international team of researchers directly detected the dark energy with the help of advanced technologies and new experiments. Highlights Dark energy is a mysterious form of energy, making up about 68% of the universe. This energy has intrigued physicists as well as astronomers for decades. Researchers noticed some unexpected results in an underground ..
Month: Current Affairs - September, 2021
Category: Science & Technology Current Affairs
Topics: Dark energy • Dark matter • Expansion of Universe • Universe • UPSC • XENON1T Experiment
The neutrino is a tiny elementary particle, but it is not part of the atom. They exist in nature. Neutrino has a very tiny mass, no charge and spins half. It interacts very weakly with other matter particles so weakly that every second trillions of neutrinos fall on us and pass through our bodies unnoticed. ..
Topics: Dark matter • Neutrino astronomy • Neutrino detector • Neutrinos • Particle physics • Physical sciences • Physics • Physics beyond the Standard Model • Solar neutrino • Solar neutrino problem
Normal lenses such as the ones used in a magnifying glass or a pair of spectacles bends the light rays that pass through them by refraction and focuses the light somewhere (such as in your eye). Gravitational lensing is among the first evidences of Albert Einstein's general theory of relativity – simply put, mass bends light. The gravitational field of a massive ..
Topics: Astrophysics • Dark matter • Exotic matter • Galaxy • General relativity • Gravitational lens • Gravitational lensing • Large-scale structure of the cosmos • Mass • Natural sciences • Physical sciences • Physics
It has been generally assumed that neutrinos travel at the speed of light. According to the theory of relativity, if neutrinos are massless, they must travel at the speed of light. However, if they carry a mass, they cannot reach the speed of light. There have been various theories regarding the speed of Neutrinos. It ..
Month: Current Affairs - November, 2011
Topics: Dark matter • Elementary particles • Faster-than-light • Leptons • Massless particle • Neutrino • OPERA experiment • Particle physics • Physical sciences • Physics • Physics beyond the Standard Model • Special relativity