D. V. Sadananda Gowda Current Affairs, GK & News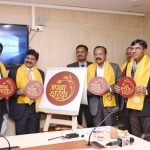 The Union Minister for Chemicals and Fertilizers, D.V Sadananda Gowda on Friday, 17th January 2020 launched a brand of the Joint venture of the state-owned Maharatna Public Sector Undertakings- NTPC, IOCL, CIL-named Hindustan Urvarak & Rasayan Limited (HURL), brand named 'APNA UREA-SonaUgle' and also unveiled the logo of the company. With the objective of making ..
Month: Current Affairs - January, 2020
Topics: APNA UREA- SonaUgle • Bihar • Coal India • D. V. Sadananda Gowda • HURL • Indian Oil Corporation • Jharkhand • NTPC Limited • Prime Minister of India • Public Sector Undertakings (PSUs) • Union Minister for Chemicals and Fertilizers • Uttar Pradesh
Ananth Kumar (59), the senior BJP leader , has recently passed away in Bengaluru on November 12th, 2018. He was in charge of two key ministries – serving as Union Minister of Chemicals and Fertilizers since May 2014 and as Minister of Parliamentary Affairs since July 2016 in the Narendra Modi government until his death. ..
Topics: Ananth Kumar • Bharatiya Janata Party • D. V. Sadananda Gowda • Lok Sabha • Narendra Modi ministry • Parliament of India • V. Muraleedharan
The continuous pressure from former Karnataka chief minister (CM) B S Yeddyurappa has resulted into the resignation of present chief minister Sadananda Gowda. Mr Gowda handed over his resignation to BJP president NitinGadkari.  BJP announced that Sadananda Gowda will be replaced by Jagadish Shettar, state cabinet minister. Karnataka set to get 3rd CM in four ..
Month: Current Affairs - July, 2012
Topics: B. S. Yeddyurappa • D. V. Sadananda Gowda • Government of India • Government of Karnataka • Gowda • Jagadish Shettar • Kannada people • Karnataka • State governments of India
Brahmasree Malliyoor Sankaran Namboothiri passed away Eminent Sanskrit scholar and Bhagavatham proponent Malliyoor Sankaran Namboothiri passed away in Kuruppanthara, near Kottayam 'Bhagavata-Hamsam' Brahmasree Malliyoor Shankaran Namboothiri (91) was a well known proponent of ritual narration of Bhagavatam-stories Obama Signs Bill To Raise Debt Ceiling US President Barack Obama signed an agreement raising the US Government's ..
Month: Current Affairs - August, 2011
Category: Government Schemes Current Affairs
Topics: Aadhaar • Biometrics • D. V. Sadananda Gowda • Government • Government of India • Identification • India • M. K. Sankaran Namboothiri • Mamta Sharma • National Commission for Women • National Social Security Fund • Nirupama Rao