Culture of Uttarakhand Current Affairs, GK & News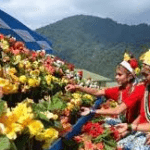 Phool Dei is the harvest festival celebrated in the state of Uttarakhand. The cultural festival is celebrated to mark the beginning of spring season. It is usually celebrated in the month of Chaitra (March-April) in the Hindu calendar. The people of the state decorate their houses with flowers as a part of the celebration. Children ..
Topics: Culture of Uttarakhand • Festivals in India • Harvest festivals
The Culture Department of Uttar Pradesh government has decided to organise India's first training and performance programme of world famous KHON (???) Ramlila. The artists will get training from experts of Thailand as part of cultural exchange programme between two nations. Then, they will perform at Grand Deepotsav function which will be organised on 26th ..
Topics: Cultural heritage of India • Culture • Culture of Uttar Pradesh • Culture of Uttarakhand • Indian culture • Khon • Literature • Rama • Ramlila • Theatre in India
Kabutari Devi (70), the famous Kumaoni folk singer, has passed away in Pithoragarh , Uttarakhand on July 7, 2018. Devi, whose songs depicted the struggles in the life of Pahari women, shot to fame after her maiden performance at All India Radio, Lucknow in the 1980s. The folk singer has received several honours, which includes ..
Topics: Culture of Uttarakhand • Kumaon • Kumaon division • Kumaon Kingdom • Kumaoni language • Pithoragarh • Subdivisions of India • Tourism in Uttarakhand • Uttarakhand