Culture of Kerala Current Affairs, GK & News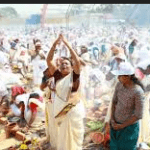 Lakhs of women gathered in the Thiruvananthapuram city of Kerala to perform the annual Attukal Pongala festival at Attukal Devi temple. Amid fear of coronavirus outbreak after six positive cases in the state, many devotees participated in the festival. It is reported that more than 2.6 million people participated in the festival. The temple which ..
Topics: Coronavirus • Culture of Kerala • Sabarimala
Chemmanam Chacko (92), the renowned Malayalam poet and Sahitya Akademi awardee, has passed away in Kochi, Kerala on August 14, 2018. Known for his satirical works, Chacko reacted to the contemporary socio-political issues of Kerala through his poems. Chacko had won several awards, including those by the Kerala Sahitya Akademi, Sanjayan Award, Kunjan Nambiar Kavitha ..
Topics: Chemmanam Chacko • Culture of Kerala • Ezhacherry Ramachandran • Indian Literature • Kerala • Kerala Sahitya Akademi • Malayali people • Prabha Varma • Writers