Colombian peace process Current Affairs, GK & News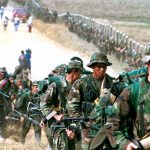 The government of Colombia has pardoned 110 FARC rebels as a part of the peace deal which has put an end to 52-year old conflict. The pardons which have been granted apply only for the political crimes. It does not cover grave offences like rape and killings. All the pardons which have been granted will ..
Topics: Colombian conflict • Colombian peace process • Communism • Communism in Colombia • FARC • Politics by country • Revolutionary Armed Forces of Colombia • Terrorism • Terrorism in Brazil • Terrorism in Colombia • Terrorism in Ecuador
Colombian President Juan Santos has accepted the Nobel Peace Prize 2016 at Oslo, Norway. The Nobel Committee had selected Santos for his resolute efforts to bring the 50-year old conflict with the Revolutionary Forces of Colombia to an end by signing a peace deal with the group. The civil war had taken toll of 2,20,000 ..
Topics: Awards • Colombia • Colombian peace agreement referendum • Colombian peace process • Colombian people • Countries • Juan Manuel Santos • Nobel Peace Prize • Revolutionary Armed Forces of Colombia • Santos
Colombia has signed a revised peace agreement with FARC rebel groups aimed at ending half a century of war that has killed more than 220,000 and internally displaced millions. The agreement has been reached less than two months after a plebiscite narrowly rejected the original agreement. The talks to reach the deal were taking place ..
Topics: Colombian conflict • Colombian peace process • Communism in Colombia • Conflicts • FARC • Juan Manuel Santos • Politics by country • Revolutionary Armed Forces of Colombia • Terrorism • Terrorism in Brazil • Terrorism in Colombia • Terrorism in Ecuador