Chess players Current Affairs, GK & News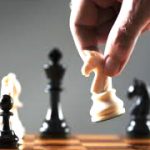 The world's second youngest Grandmaster, India's 13-year-old D. Gukesh has recently won the Cannes Open Chess Tournament, held in Cannes, France. He defeated Harutyun Bargseghyan of France in the final round and scored 7.5 points. The Tamil Nadu player remained unbeaten in the tournament and had defeated the top-seeded Chongsheng Zeng of China. Gukesh had ..
Topics: Chess • Chess players • France
In Chess, Indian Grandmaster Abhijeet Gupta lifted the 2019 Cannes International Open trophy with 7.5 points. He took an easy draw with Pier Luigi Basso of Italy in the ninth and final round. It was a clear point lead over nearest rivals Nikita Maiorov of Belarus, Nasuta Grzegorz of Poland and Yuri Solodovnichecko of Ukraine.
Topics: Abhijeet • Abhijeet Gupta • Chess • Chess players • Rajasthani people
D Gukesh from Chennai has become the 2nd youngest Grandmaster (GM) in the world and the youngest Indian to achieve the feat at 12 years, seven months and 17 days. He erased the mark set by his state-mate R Praggnanandhaa in June 2018. He achieved his third and final GM norm at the ongoing 17th ..
Topics: Chess • Chess players • Chess prodigy • Gukesh D • Rameshbabu Praggnanandhaa • Sergey Karjakin • World Youth Chess Champions
Grandmaster Srinath Narayanan from Chennai has become the champion of the LIC 3rd Kolkata Open International Grandmasters Chess Tournament 2018 and clinches a prize purse of Rs 3 lakh at The Newtown School on May 22. He registered a quick draw against Shyam Sundar M to won the final match of the tournament.
Topics: Chess • Chess players • Srinath Narayanan
Baskaran Adhiban from India has clinched the title in the 33rd Reykjavik Open Chess Tournament 2018 with an impressive performance that saw him win five of the nine games. He became only the second Indian after Abhijeet Gupta (in 2016) to win the prestigious Reykjavik Open.
Topics: Abhijeet Gupta • Alexey Dreev • Baskaran Adhiban • Chess • Chess players • Dmitry Andreikin • World Youth Chess Champions