Chamba Current Affairs, GK & News
Gian Chand (93), the veteran freedom fighter, has passed away at his native village in Mohalla Ramgarh of Chamba district, Himachal Pradesh on May 27, 2019. Born on 26th October 1926, Chand was a member of Azad Hind Fauj led by Netaji Subhash Chandra Bose.
Topics: Axis powers • Azad • Bose • Chamba • Chandrabose • Collaboration with the Axis Powers • Indian independence movement • Indian National Army • Military • Netaji • Subhas Chandra Bose • World War II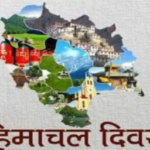 Himachal Pradesh celebrated 72nd Himachal Day on 15th April with gaiety and fervour. Himachal Day is celebrated to commemorate its creation. Genesis of the Himachal Day Before independence, most of the areas of Himachal Pradesh was part of Punjab state and during that time this region was divided into four different regions such as Chamba, ..
Month: Current Affairs - April, 2019
Topics: Chamba • Himachal Day • Himachal Pradesh • Mandi • Punjab • Shimla • Union territory
The Himalayan Cloud Observatory has recently been set up in the SRT campus Chamba of Tehri Garhwal district in Uttarakhand to receive forecast and monitor cloud burst incidents in the Himalayan region and help minimise the damage. This is the second observatory in the country to monitor cloud activities by the Indian Science and Technology ..
Topics: Chamba • Cloudburst • Garhwal • Meteorological phenomena • Meteorology • New Tehri • Subdivisions of India • Tehri Garhwal district • Uttarakhand
Uttarakhand has been adjudged the best state at the 38th India International Trade Fair (IITF) in New Delhi, which showcased reconstruction work done at Kedarnath in recent months besides steps taken by the state government to boost tourism and promote local products like organic honey. Beside this, Himachal Pradesh pavilion has been awarded silver medal ..
Topics: Chamba • Culture of Himachal Pradesh • Districts of India • Himachal Pradesh • India International Trade Fair • Kinnaur district • Kinnauri language • Kinnauri Shawl • Kullu • Nati • Shimla • Subdivisions of India